MPN är en grupp klonala sjukdomar som påverkar de multipotenta hematopoetiska stamcellerna.1,2 
De är sällsynta men potentiellt livshotande sjukdomar som kraftigt kan påverka patienternas livskvalitet på grund av funktionsnedsättande symtom och ökad risk för kardiovaskulära händelser.3
Vilka differentierade myeloida celler som berörs bestämmer vilken typ av MPN som utvecklas och kan påverka mortaliteten.1
Klassificering av MPN
Enligt Världshälsoorganisationen (WHO) 2016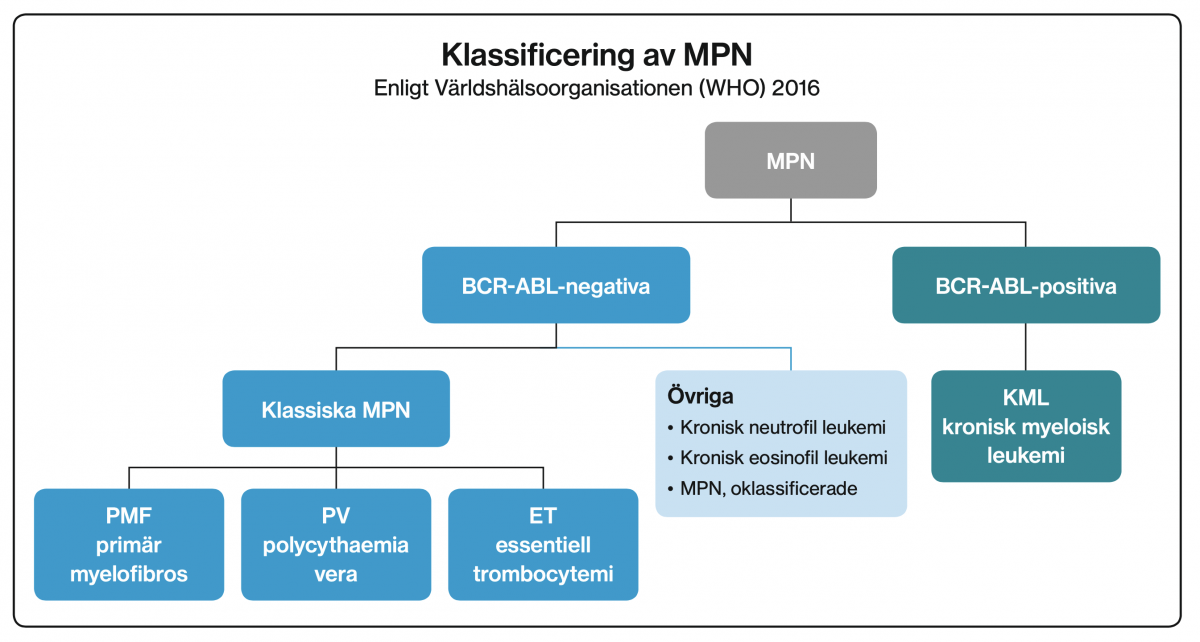 Behandling av MPN
Det viktigaste målet med MPN-behandlingen är att förlänga överlevnaden och förbättra patienternas livskvalitet.4 
I dagsläget är det enda kurativa alternativet för patienter med MPN allogen stamcellstransplantation. Flertalet patienter är dock inte kandidater för denna behandling.5 De flesta alternativen innebär endast behandling av de kliniska manifestationerna av MPN och är inte riktade mot den underliggande sjukdomen.5
Referenser
1. Tiziano Barbui et al. The 2016 WHO classification and diagnostic criteria for myeloproliferative neoplasms: document summary and indepth discussion. Blood Cancer Journal (2018) 8:15
2. Spivak JL. Narrative review: thrombocytosis, polycythemia vera, and JAK2 mutations: the phenotypic mimicry of chronic myeloproliferation. Ann Intern Med. 2010;152(5):300-306.
3. Cervantes F, Passamonti F, Barosi G. Life expectancy and prognostic factors in the classic BCR/ABL-negative myeloproliferative disorders. Leukemia. 2008;22(5):905-914.
4. Barbui T, Barosi G, Birgegard G, et al. Philadelphia-negative classical myeloproliferative neoplasms: critical concepts and management recommendations from European LeukemiaNet. J Clin Oncol. 2011;29(6):761-770.
5. Mesa RA. New drugs for the treatment of myelofibrosis. Curr Hematol Malig Rep. 2010;5(1):15-21.