Målet med behandlingen av kronisk spontan urtikaria är att uppnå samt bibehålla symtomfrihet.1 Studier har visat att patienter som bara till viss del, eller inte alls, uppnår symtomfrihet får negativ inverkan på sömnkvalitet, arbetsliv och socialt liv.2,3
I de nya reviderade internationella riktlinjerna från 2018 rekommenderas fyra behandlingssteg.1
Vid akut exacerbation:
En kort kur, under ett fåtal dagar, systemisk kortisonbehandling kan övervägas.1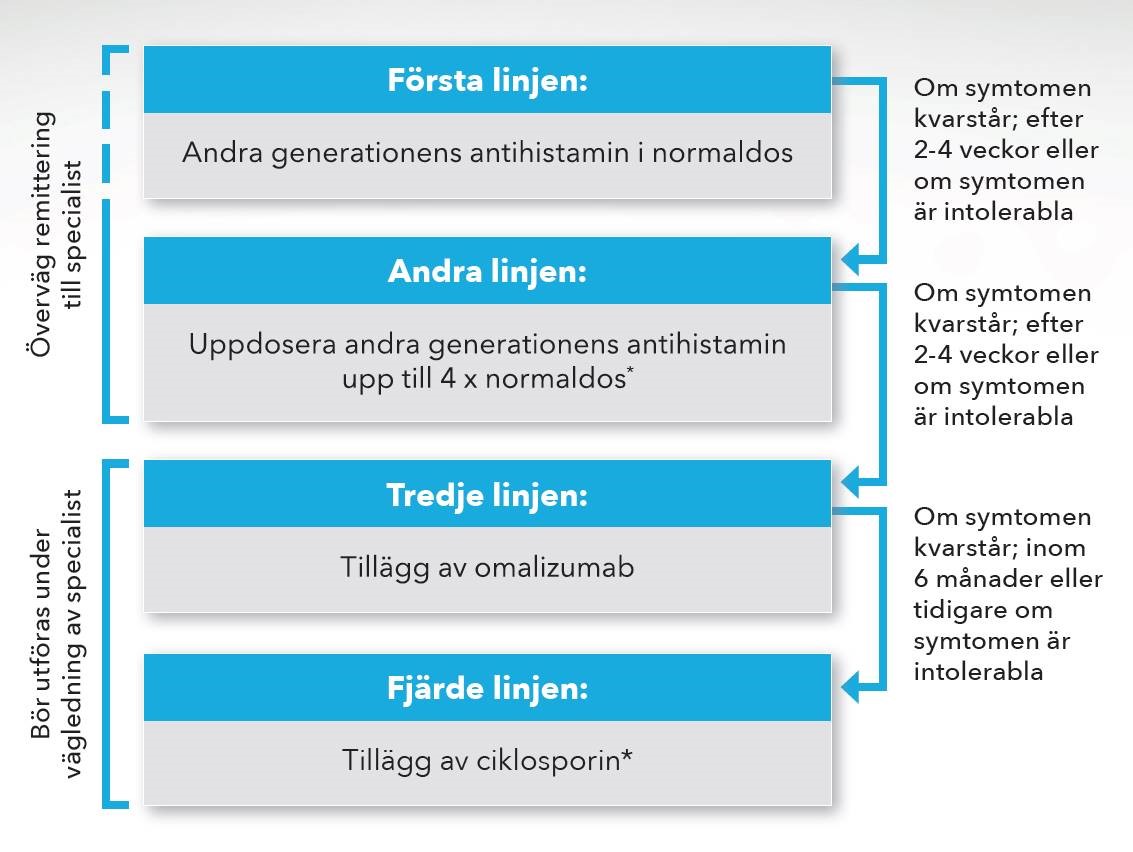 * Ej godkänd indikation.
Bildkälla: Omarbetad efter Zuberier T et al. Allergy. 2018 15. doi: 10.1111/all. 13397 [Epub ahead of print] 
Referenser
Zuberbier T. Aberer W, Asero R et al. The EAAC/GA2LEN/EDF/WAO guideline for the definition, classification, diagnosis, and management of urticaria. Allergy. 2018;73:1393-1414.

Maurer M et al. The burden of chronic spontaneous urticaria is substantial: Real-world evidence from ASSURE-CSU. Allergy 2017. Advanced online publication. DOI:10.111.

Maurer et al. H1-antihistamine-refractory chronic spontaneous urticaria: it's worse than we thought – first results of the multicenter real-life AWARE study. Clin Exp Allergy. 2017;47:684–692.